Leave a Review for Carbert Waite Fertility and Surrogacy Lawyers
We are honoured that you chose Carbert Waite LLP as your law firm. We truly appreciate and value all of our clients that we work with. Client satisfaction is extremely important to us, and we would love to hear your feedback on your recent experience with our team. If you have a few minutes, we would appreciate a Google review letting us know how we did.
How to Leave Us a Review on Google My Business
You need a Google account to review a business on Google. If you don't have an account, we have listed instructions below on how to create an account. It's free to create a Google account, and you can use your existing email address.
If You Have a Google Account
You'll first want to ensure you're logged in to your Google account. Once you're logged in, you can navigate to Carbert Waite LLP's Google My Business listing by clicking here.
A "Rate and review" box will appear which will prompt you to click on the stars to score our service as well as share your experience. Feel free to elaborate as much as you'd like, including leaving your lawyer's name and any other support staff you worked with at the firm.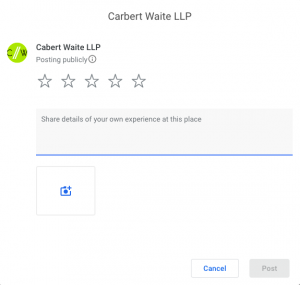 Thank you in advance for your time and consideration. We greatly appreciate it!
If You Don't Have a Google Account
You can create a Google account either with a new Gmail address or using your existing e-mail account.
For a new Gmail account, click the create an account link here. To use your existing e-mail address, use this link here.
Now you have a Google account, and you're free to leave a review for us here. Thank you so much!